How to Cook Yummy Grilled Chicken Breasts with Creamy Basil Sauce
Grilled Chicken Breasts with Creamy Basil Sauce. This was a very tasty recipe. I altered the sauce recipe slightly because I wanted to season a whole box of pasta with it. Lightly oil grill and preheat barbecue to medium-high.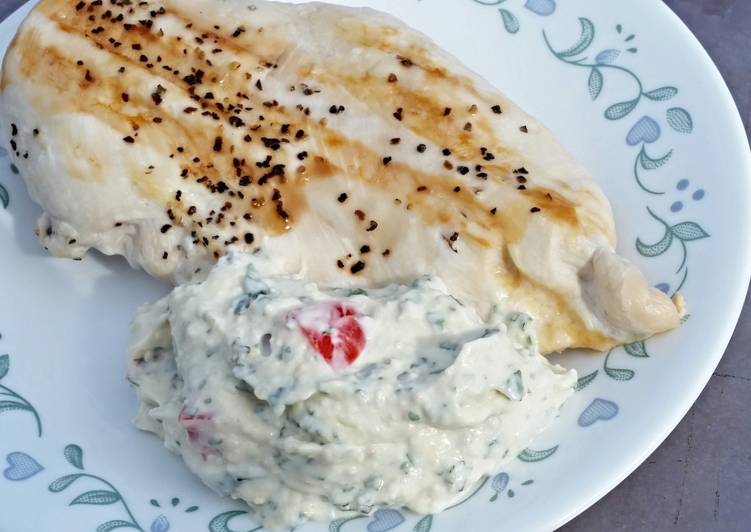 There is no heavy cream in the sauce making it a healthy option when you want true comfort food. The chicken is cooked in a skillet and then the garlic and basil sauce is made in the same pan. Great for the whole family and a new fabulous way with boneless chicken breasts. You can cook Grilled Chicken Breasts with Creamy Basil Sauce using 12 ingredients and 2 steps. Here is how you cook that.
Ingredients of Grilled Chicken Breasts with Creamy Basil Sauce
Prepare of Chicken preparation.
Prepare 8 large of chicken breasts (boneless/skinless).
Prepare 1 tbsp of vegetable oil.
It's 1/2 tsp of sea salt.
You need 1 tsp of ground black pepper.
Prepare of Creamy Basil Dip.
It's 3/4 cup of mayonnaise.
You need 1/4 cup of sour cream.
It's 2 clove of garlic (minced).
It's 3 tbsp of basil.
Prepare 3/4 cup of grated parmesan cheese.
You need 2 medium of plum tomatoes (seeds removed and diced).
Place one chicken breast onto a sheet of parchment paper, then fold the paper over the chicken. Set aside and repeat with the remaining chicken breasts. Season chicken on all sides with salt, pepper, and dried basil. Alternatively, use horizontally sliced chicken breast cutlets.
Grilled Chicken Breasts with Creamy Basil Sauce instructions
Lightly oil both sides of chicken breasts. Then sprinkle both sides with the salt and pepper. Barbecue chicken on grill with lid closed, approximately 6 minutes per side and an internal temp od 165°F is reached. Remove from grill..
Meanwhile place all the ingredients for the dip into a bowl. Refrigerate until serving. Note. You can make the dip a day ahead if you wish..
Your go-to creamy chicken recipe for Fall is here: Chicken Breasts with Creamy Rosemary Sauce. It's easy, comes together quickly, and makes enough deliciously creamy sauce for chicken that can be used over pasta, rice, or veggies for a full meal. In a nonstick saucepan, combine the cream, wine or broth, onion, garlic, mushroom mixture and remaining pepper. Bring to a boil, stirring occasionally. Combine cornstarch and cold water until smooth; stir into cream sauce.