Recipe: Yummy Curried Chicken Breasts
Curried Chicken Breasts. In a small saucepan, combine butter, honey, mustard, curry powder, and salt, and cook over medium heat, stirring, until the mixture begins to bubble. When hot, saute onions and garlic till soft, remove onions and garlic. In a large skillet, brown chicken on both sides in oil.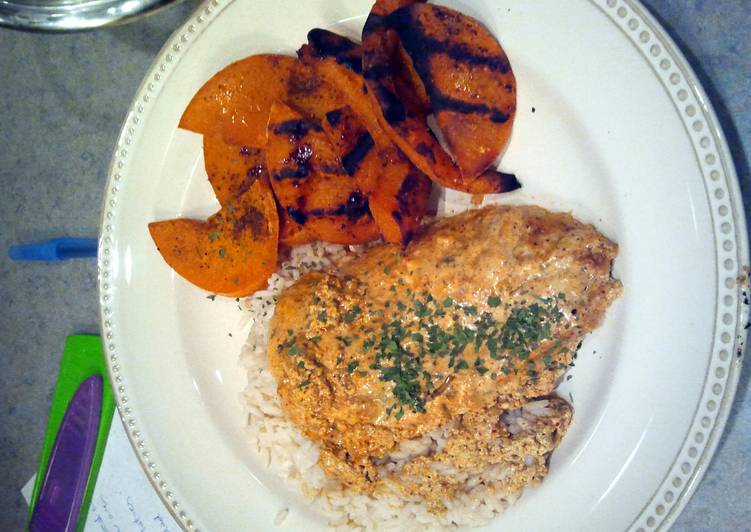 Serve them over hot cooked rice with some peas drizzled with a bit of honey for an excellent meal. The sauce for this recipe is just excellent. It's mild and rich, rather like Mughlai curry, a traditional Indian dish. You can have Curried Chicken Breasts using 10 ingredients and 7 steps. Here is how you cook it.
Ingredients of Curried Chicken Breasts
Prepare 2 medium of boneless skinless chicken breasts.
You need 6 oz of plain yogurt.
It's 2 tsp of curry powder.
Prepare 1 tsp of chili powder.
Prepare 1 clove of garlic, minced.
It's 1 tsp of lime juice.
Prepare 1 tbsp of olive oil.
You need 1 dash of cayenne pepper, to taste.
Prepare 1 of salt and black pepper, to taste.
It's 1 dash of dried cilantro.
Here, standard weeknight chicken breasts are transformed into a dish that's fragrant and spicy It's very easy to prepare: just make a quick stew of butter, onions, celery, garlic, apple, tomatoes and curry powder Blend that together in a food processor until it forms a thick sauce, then combine with chicken breasts that have been lightly browned Chicken breasts sauteed and simmered with onion, olive oil and curry powder. Simplest chicken curry you'll ever make! Serve over hot cooked rice with a little side of mango chutney, if desired. In this family-friendly chicken curry dish, thinly sliced chicken breasts are sautéed with curry powder and simmered in an aromatic, slightly sweet curry sauce thickened with Greek yogurt.
Curried Chicken Breasts step by step
Preheat oven to 375°F.
Combine everything but chicken and cilantro (I like to mix it up in the yogurt container to avoid dirtying a bowl).
Bake until chicken reaches 165°F, 25-30 minutes.
Place chicken in an ungreased 9×9 baking dish.
Pour yogurt mix over chicken, turning to coat.
Serve over rice.
Sprinkle with cilantro.
Chicken is simply baked in a buttery curry sauce that keeps the chicken tender while baking and imparts a light curry flavor. The recipe calls for bone-in chicken with skin but you can use skinless, boneless breasts easily – just adjust the cooking time as needed. Return the chicken breast to the skillet along with any juices on the plate. In a large pot over medium-high heat, heat oil. Mix oil, curry powder, garlic salt, onion powder and paprika in small bowl.